More than four months after Vladimir Putin sent troops into Ukraine bringing war to Europe once more, Mark Kychma is reflecting on how the invasion has changed his life.
Like many people in the historic city of Lviv, the RSM alumnus never thought tanks would ever roll across Ukraine's eastern border in a Soviet-style military campaign. Although his home is in the far west of the country, air raid sirens still sound frequently and airstrikes early in the conflict targeted electrical substations, a fuel depot and even local garages.
In 2007, Mark graduated from RSM with an MBA and a specialism in finance. Since then, he has developed an international career in emerging technologies and Internet start-ups. Shortly after the invasion, as refugees flooded west from the warzone, he was quick to offer his help. Volunteering for night shifts on the border, he worked to support people who had waited up to 24 hours to cross to Poland.
"In Lviv, a city of million people, five million people passed through in three months. Their lives had changed, they had undergone traumatic experiences, I could see it in their eyes," he says. "From the start, the Government supported refugees by giving them places to stay, no one slept in the streets and the process was managed well. My girlfriend is now in Austria and I'm glad she's safe."
"We had heard rumours that the Russians would invade but we could hardly believe it, it seemed so illogical. When it happened, it was such a shock. I remember friends came round to my place that day as they didn't want to stay at home on their own."
Ukrainians are still trying to come to terms with what has happened: "I could leave as I also have a Dutch passport but I want to stay. My business is based in the west and I'm still working but many people have lost jobs, and many have been forced to relocate.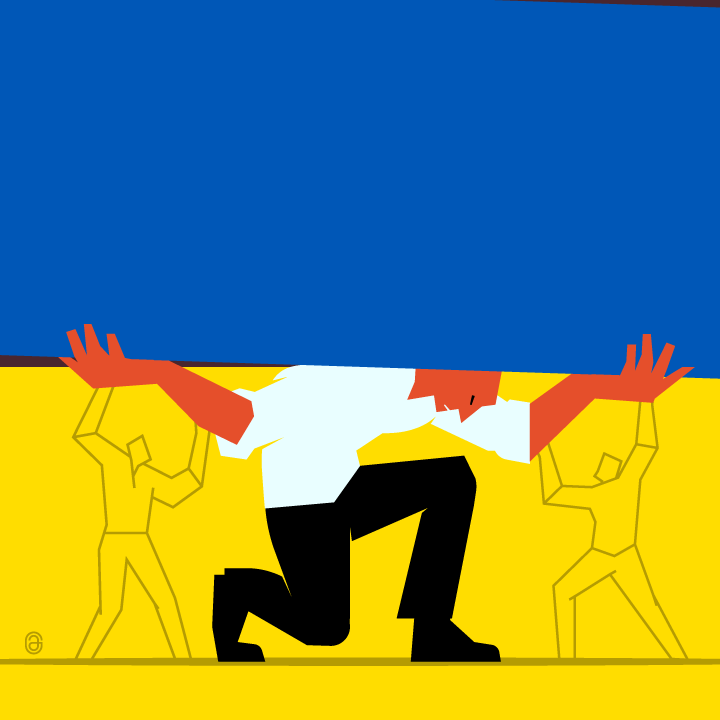 "We are adjusting to this new reality, with all its uncertainties. War has brought countless problems. Thousands of people in the East took out mortgages to buy flats which have now been destroyed. They must make their repayments but they can't work and have no housing. Their insurance won't cover losses caused by war and the Government is looking into how to support them."
Mark is now focusing his efforts on helping a friend to source and distribute vital medical supplies. He works closely with Dr Irina Rybinkina who returned home from New Zealand after the invasion, leaving her husband and children safely in the Netherlands. She is now in Lviv coordinating the donation of medical supplies through her charitable foundation, SMART Medical Aid, established in 2014 after the Russians annexed Crimea.
Working behind the scenes on improving the systems, Mark explains: "A lot of ambulances have been donated but, before they can be sent to the hospitals, they have to be driven into the country and registered. We have to sort out the right paperwork and that's an example of something I can do to help right now."

He's not surprised Putin's forces didn't achieve a rapid victory: "I'm ex-military with experience in logistics so I knew Ukrainians would fight fiercely for their homeland. But it was hard when I heard a friend I knew at the lyceum had been killed, it brought the tragedy home to me. Although some commentators have suggested our country may be partitioned with part of our territory ceded to Russia, we will never accept this."
Meanwhile, the fighting goes on: "Hundreds of people are still dying every day but that doesn't always make the news. Funding has become the issue, Ukraine has to buy essential supplies and the flow of aid is slowing down. In addition, without a strict embargo in the west on buying Russian oil and gas, Putin is still getting money to run this war. The President has managed the crisis well so far, but it's not over yet."
Mark says he's been surprised and impressed by the achievements so far of Ukraine's President: "Volodymyr Zelensky was a comedian and I didn't take him seriously when he was elected in 2019 but he's doing a good job. You can see the weight on his shoulders is tremendous and I know he will face tough decisions as the war goes on but I know Ukraine is behind him."
At the start of the conflict, Mark was touched when many of his former classmates in Rotterdam got in touch to find out more about what was happening in Ukraine and how they could help. "Dozens of my MBA friends donated generously to local charities," he says. "It meant a lot to me that people reached out and asked what they could do to support us through the emergency. True RSM friendships last a lifetime".
Mark is helping Smart Medical Aid
to make a difference.

The EUR student emergency fund
is helping students affected by the war.