Every nominee, chosen from more than 40,000 alumni, is an outstanding Force for Positive Change in their own right. RSM is proud to highlight their career achievements so far and their hopes for the future on our website.
The annual awards recognise individuals for their achievements in business or society, for their contributions to alumni volunteering and, naturally, for being a Force for Positive Change.
In 2022, the belated 2021 awards were given to June Ip, Philip Lloyd and Teodor Cătăniciu.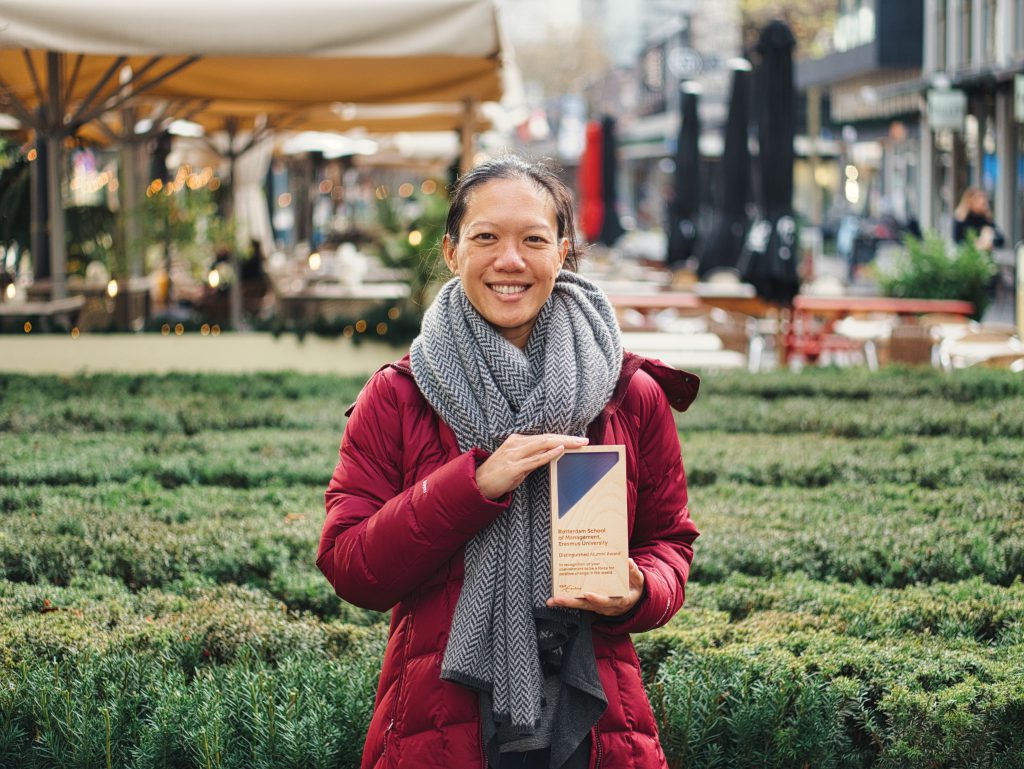 June Ip (MBA, 2012) receives the Force for Positive Change Award for the many ways she is tackling biases head-on through giving a voice to marginalised people.
In her career before enrolling at RSM, the Canadian audited international supply chains for major brands, reporting back on cases of worker exploitation. However, June believed she could do more by taking a senior role in business herself. She knew studying for an MBA overseas would allow her to gain essential knowledge, along with new insights into global business.
Her verdict on the degree: "Learning about different perspectives by working with people from other backgrounds helps you think through problems and come up with effective solutions that don't exclude others. We were a close-knit group, I'm still in touch with my network and value their input and challenges."
June combines her job as Vice President of Marketing at the Lenbrook Group, an audio technology company in Ontario with other roles that directly support others. She writes for the YWCA blog on important policy issues behind topics such as combating anti-Asian racism and the impact of Covid-19 on women care-givers. The rights of women from minority communities are always at the forefront of her activities.
She also teaches innovation at the University of Toronto: "Many students are mid-career professionals who want to launch start-ups. Supporting them as they develop their ideas at this early stage, I can encourage them to think differently to ensure equality of outcomes for everyone."
During the pandemic, June graduated with a Masters of Laws in Innovation Law and Technology to help her understand how this sector is likely to develop: "Tech has become a pervasive part of our lives but we haven't thought through how it works. Take artificial intelligence, if it's using a data set of health statistics that don't include information about women, it will exclude their experience. We need legal policies and robust standards. For example, who is responsible for AI? Is it the machine itself, its manufacturer or the designer of the algorithm it uses?"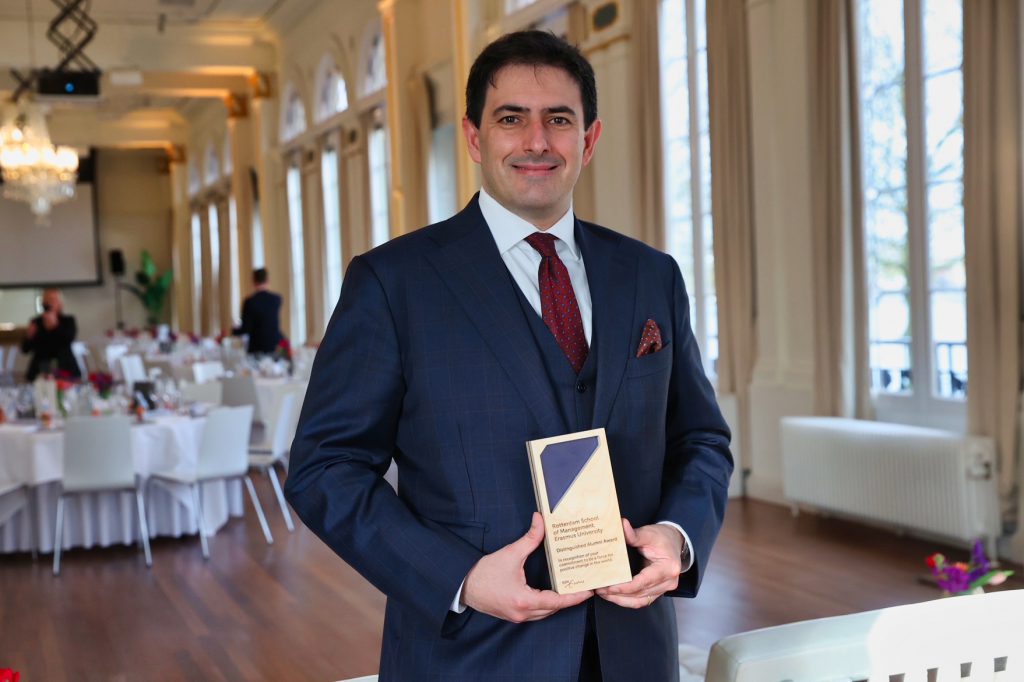 Philip Lloyd (MBA, 2011) receives the Alumni Volunteering Award for supporting fellow graduates to network productively and keep in touch with each other and their business schools.
Before his MBA, Philip studied for a bachelor's degree in History and Politics at Warwick University in the UK, then worked in Moscow. He went on to establish himself in Milan. Global perspectives have always been important in his life and career.
Starting out as a consultant for Bain&Co in Italy and now at Goetzpartners, he was keen to start an RSM Alumni Chapter in Milan. Philip wanted to bring together professionals who had studied in Rotterdam and also at other leading business schools across the region. He knew this would help everyone build valuable connections and learn from each other. As each business school only had a few alumni in the city, it made sense to get together to host events. The network began with social events such as visits to wineries and Christmas gatherings and soon began to flourish.
"There is little tradition of professional networking in northern Italy but it's an invaluable way for business people to meet in informal settings." explains Philip. "We hold events every two or three months."
Before the pandemic struck, the annual highlight was the Chapter's Milan Ball, when up to 200 business school graduates from near and far dressed in their finery for a spectacular event with live music and fine dining in a stunning venue. It has also raised generous sums for a cancer charity. Philip hopes to hold the next one this year, although the impact of the war in Ukraine may force another cancellation: "Networking can be glitzy and fun as well as worthwhile. We make sure tables are balanced with a mix of people to inspire conversations, from recent graduates to CEOs of major companies and the Ball has become increasingly popular."
Jointly organised with fellow RSM graduate Mariaclara Celati (MBA 2014), these alumni events are always staged with Italian flair, the next is scheduled to take place in Milan's prestigious Galleria Campari.
Teodor Nicolae Cătăniciu (IBA, 2017) receives an Alumni Achievement Award for improving the lives of others.
Teodor was definitely a force for positive change at RSM, right from the start. During his studies, he co-founded the Turing Society with Tomas Moska (BSc IEBE, Erasmus School of Economics 2016) to promote coding and tech skills, which continues today as Turing Students Rotterdam. When he saw there was no student society for Brazilian Jiu Jitsu, he got together with Erasmus Sport and Daniel de Groot (BSc Bestuurskunde -Public Administration 2016) to launch a club to teach the martial art and it also flourishes today.
His positive mindset has seen the young Romanian entrepreneur hailed as a man to watch as Eastern Europe becomes more prosperous and influential. As he describes it: "Progress is possible but not guaranteed. We have the ability to solve problems and we are the people we have been waiting for."
Community service was a theme throughout his time at Rotterdam. As thousands of refugees from Syria and other war-torn countries arrived in the city, Teodor and Frederick Rustler (IBA 2016, BIM 2018) came up with the idea of harnessing their motivation and enthusiasm by encouraging them to reskill for the tech industry. Restart Network was a successful three-year non-profit organisation that brought together more than 100 people from 32 countries. More than 84% of them were new to computer science. It also donated €15,000 to the RSM Hummingbird Fund to support current students with their positive impact initiatives.
As Teodor wrote in its Impact Report: "We were humbled to play a part in the growth of our students because we've seen them develop more than web applications, we've seen them develop the next chapter of their lives in Europe. We also want them to know how much we have learned from them."
Along the way, he was named one of the Best Entrepreneurs Under 35 by the Dutch Financial Times, featured on Voice of America and TEDx and chosen by Forbes Magazine as one of Romania's 30 Under 30.
Back home in Bucharest, after studying a Masters at Columbia University in the City of New York, he is now involved in sustainable real-estate development in Romania's busy capital. "At my company, OVO Europa, we are on a mission to build sustainable places where people thrive and communities grow. Despite the great challenges at our borders, I am confident and excited for the future of my city in an ever-closer European Union."
Who deserves to be the next RSM champion?
Nominations are open for the next RSM Distinguished Alumni Awards.