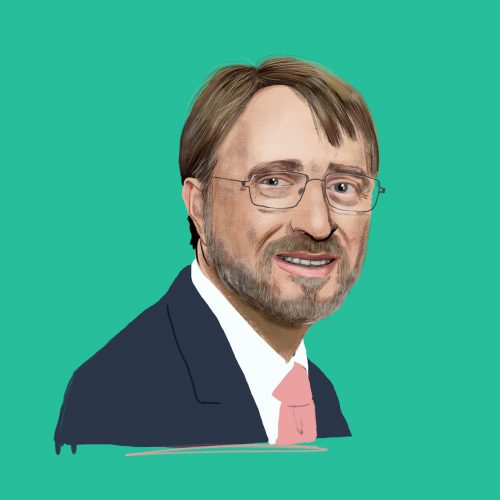 What an exciting time to be joining RSM as Dean! For almost five decades now, the school has shaped generations of leaders, and among the early encounters that have impressed me most are those with alumni and corporate partners. RSM is unique in the Netherlands for the strength of its network, and I've particularly enjoyed being part of events in which newer alumni meet with others who had graduated 25 years ago. There is an immediate bond there, a willingness to help one another that I've rarely seen in other spheres of life. This kind of support will see RSM grow from strength to strength, as it faces the next phase of its history.
Against its background as a research powerhouse, the school has made great strides in its redefined mission: to be a force for positive change in the world. As a school, we want to be measured by the difference we make to the world around us, using the United Nations' sustainable development goals (SDGs) as a framework. The work our faculty members do in research and teaching around grand challenges demonstrates our commitment to our mission.
Yet if we want to truly be a transformative power, we will need to go beyond this. We operate in an era of disruptive changes that require fundamentally different answers and new approaches. For example, as a leading business school, we cannot be content with doing research about digital technologies; we need to drive technological change forward and educate the next generation of digital leaders.
The new MScBA in Business Analytics and Management that starts in September is an example of such a development, and other programmes will follow. We have already introduced award-winning MOOCs on the SDGs, and are integrating more blended (online and offline) learning in several other programmes.
We plan to do significant work in the years to come to address demographic changes and the importance of lifelong learning. The new economy will involve significant and continuous reskilling, and our educational models need to adapt to the changing needs of learners.
Gone are the days when predefined programmes could fulfil the needs of individuals and corporates. We need to integrate greater choice and flexibility into our programme portfolio. Finally, we need to become much more adept at evidencing the impact of our work as a business school in the global as well as in the local and regional environment in which we operate.
RSM is in a great position to meet these challenges. The school has tremendous intellectual strengths, committed staff and great students. Importantly, we are part of Erasmus University, a world-leading social science university. Above all, we enjoy the support of our alumni, and our corporate and academic partners around the world. As I begin my journey at RSM, I invite and welcome you to continue to be part of it.