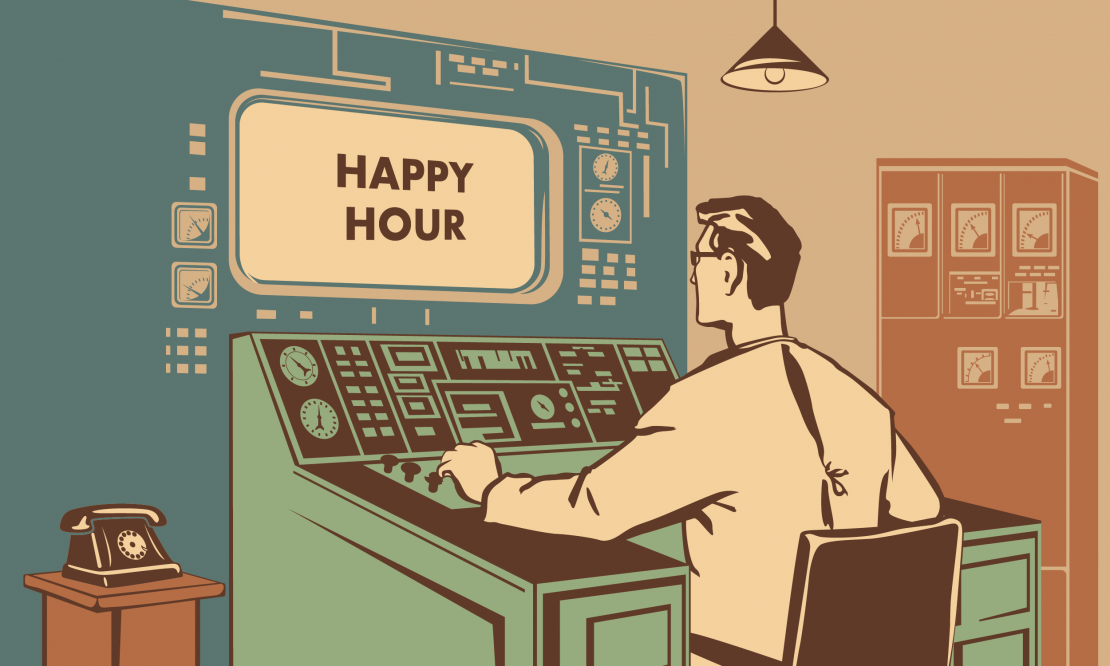 Has the pandemic changed the way we work? Or did it simply turbo-charge change that was already there? It's hard to recall how we worked in the Before Times but, in fact, remote working, flex-working, online meetings and flatter hierarchies have been gaining in popularity since the early 2000s – something that has been only too evident for those in managerial roles.
"Middle managers previously communicated the company's strategy from executives to their teams, while monitoring what was going on below them and communicating it back to the top," says Dr Murat Tarakci, Associate Professor of Innovation Management. "Digitalisation has made it easier for senior management to disseminate their vision and strategy to all staff, customers and other stakeholders. And that means that the jobs of middle managers have been redefined – instead of passing on that strategy, they can think more creatively because they see both the forest and the tree. They now communicate goals, not tasks, and it's the lower levels that have to break that down. That empowers their teams.
"But it also calls for a different type of leadership," continues Tarakci. "You can't hold your employees' hand, especially if they are remote working. Managers can't observe everyone all the time ­– instead, they are redefining how they approach their teams and inspire them. It's no longer the manager's job to tell people specifically what to do and ask, 'Why haven't you done that?'. Their role is to develop an inspiring vision, set goals, remove obstacles, solve problems and ask their teams: 'What can I do to help you do your job better?'"
Modern teams may want modern leadership, especially in remote/hybrid working situations – but this isn't generational, despite the numbers of media pieces suggesting that Generation Z need a different approach, says Steffen Giessner, Professor of Organisational Behaviour and Change. "Considering age or generations is more about stereotypes than actual differences present," he says. "Instead, factors such as whether you have children and whether you have a good home workspace are much more significant. Clearly, home working is trickier if you have young children, and easier if you have a home office. Age might play a role in how to adjust to new technology, but this is minor. Research shows age and generations make no difference when it comes to how people are motivated to perform. Instead, performance comes back to the leader's ability to make things work for everyone."
And on a day-to-day level, that means today's managers are checking in with staff more than they might previously have done. "People working remotely can feel a lack of connection," says Antonie Knoppers, adjunct faculty in RSM's Leading with Presence course and founder of D&A training, "and that is greater still for people who started their working life during the pandemic and have never worked in an office. Obviously, you miss those impromptu encounters, stopping by someone's desk, meeting at the water cooler and saying 'hi'.
"So it's the responsibility of a good leader to recreate that. Online is not impromptu, and you need to schedule in a meeting, but once a month there needs to be an opportunity to talk with no work agenda – just a chat or a pub quiz. It's the personal, rather than the professional, connection that is most missing – and it's your job as a leader to make that personal connection happen."
And that matters because, as Knoppers points out, "Remote working is here to stay. Companies have seen it works and are offering their staff an option to continue. But remote working will always lack that face-to-face, side-by-side connection that can be so important for engaging and motivating staff – so leaders have to equip themselves with a whole new set of skills."
And that starts with recognising that leaders have acquired more personal accountability for their teams over the past couple of years, says Giessner. "The scope of leadership has expanded," he adds, "to things like work-life balance. Managers are suddenly responsible for employees and their private lives. But a good leader can make this a positive – you check who wants to be in the office, who wants to be at home, and take the opportunity to align yourself and the company with their desires and make them even happier.
"Remote working creates another layer of diversity – acknowledging and respecting those who want to work in different ways. These times are a real chance to connect with your team and discuss what they really want, as individuals, from how and where they work, and to find a consensus that shows you have really listened to them and understood them."
Working from home has also been a great leveller: video calls have given us all a glimpse into each other's personal lives. This, too, is the future, says Knoppers – and he encourages it. "I am very open; I like the fact we can see someone's dog or hear their child. Many employees see their manager as a superman/superwoman who knows everything, but showing a little vulnerability – 'Ah, my boss also has a crying child, they answer the door for a DHL package, just like me' – can help your leadership by humanising you and helping your staff connect."
But is there a risk that humanising too much leads to a lack of respect from your teams? "I don't think so," says Knoppers, who is co-author, with Giessner and their colleague, Milly Obdeijn, of Leading with Presence (Emerald Publishing). "It's true that younger people, in their 20s, tend to have less self-awareness in virtual meetings – you might see a messy bed in the background, or see them slumping, which doesn't work to their advantage. But it's the leader's job to engage and motivate them. And presenting to someone online is a very different skill from presenting in an actual space."
Indeed, learning these types of skills is crucial. "New skills are needed in remote work," he says. "We've learned that the online option is a valuable additional tool for future education. It might not replace in-person teaching, but it extends the quality of in-person teaching and offers new avenues for courses and topics."
One of the biggest changes for modern leaders is the greater obligation to safeguard their employees' mental health. "Some people have been fine through the past year," says Knoppers, "but others have found it isolating and challenging. Leaders need to work hard to understand who they need to support, and check in with them a little more – it's not a one-size-fits all. As human beings, we naturally long to be seen and heard and acknowledged by our leaders – so it's more vital than ever at the moment that leaders do that."
Leadership is changing for both managers and their teams, says Tarakci. "Employees want and expect autonomy and flexibility, but they still also want purpose," he adds. "So it's important for organisations and their leaders to recognise that.
"Ultimately the goal of leadership remains the same," he adds, "and that is to move people. But the levers that leaders use to do that is evolving, and organisations need to understand and embrace that."
Lead with presence
How can you grow your influence as a leader? Join Professor Steffen Giessner and Antonie Knoppers for this unique two-day course and learn how to create more impact in your communication and interaction.
Through theory, practical tools and exercises, you will increase your skills at being confident, persuasive and inspiring.
Realise your team's potential
Do you have the skills to be an effective team leader? Are you struggling with team leadership challenges and issues, or need to boost your skills to manage your team to collective excellence?
Join a three-day workshop with some of RSM Executive Education's top faculty members.