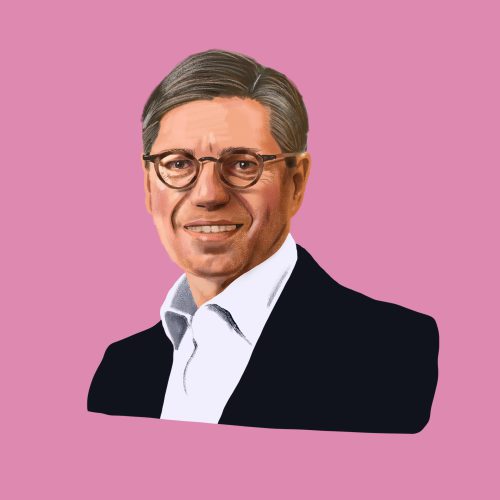 If we're going to tackle climate change, we need behaviour change.
That's the biggest challenge facing every single company and consumer on the planet. But it feels particularly relevant here: Rabobank is one of the largest agriculture banks in the world, but we were founded as a farmers' cooperative, and that ethos is still very much part of our DNA. Talking to our clients about our shared future is essential.
Food and agriculture is currently responsible for roughly 27 per cent of greenhouse gas emissions, and with the global population predicted to reach 9.7 billion by 2050, that's only going to increase – by some 30 per cent – if we don't adapt and innovate. Similarly, increased prosperity means we will be consuming more protein as a global population, so we also need to ensure that consumers are conscious about healthier, more nutritious food, as well as focusing more on plant-based substitutes next to only animal proteins.
The ramifications, particularly for the poorest in the world, of doing nothing are huge. The costs of remedying storm damage or rising water levels or a lack of agricultural production are enormous. Someone's going to have to pay for that, and this is why we need action now.
Tackling the climate crisis starts with an awareness of our impact on the planet and is also driven by the fact that, increasingly, financial institutions need to report Scope 3 emissions – those that occur indirectly in a company's value chain. One of the next steps will be that the cost of capital will increase for companies that are seen as polluters, who don't make the transition to becoming more sustainable and becoming net positive.
In the Netherlands, for example, we have worked in a partnership with farmers, FrieslandCampina and the World Wide Fund for Nature (WWF) to restore biodiversity. Together with the WWF, we set up a number of KPIs – if the farmers are able to meet these criteria, they were provided with a discount on their loans and a premium on the milk price. It is about rewarding sustainable business practices.
We discuss sustainability targets with our clients here in China too, working with them and making sustainable loans available to them. This raises awareness of the importance of sustainability, but it also gives them access to more attractive financing.
You see this in terms of environmental, social and governance (ESG) criteria too, with companies able to access more attractive financing by meeting ESG targets. There is an investor market out there – both on the equity and the bond and syndicated loan market side – that wants companies to take this action.
We have not inherited this planet from our ancestors. We are borrowing it from our children. The way that we are conducting ourselves now means we won't be able to give back what we've borrowed in a better state. Rabobank wants that to change – we must grow a better world together.